Hammerbrain
DO YOU KNOW WHAT YOUR CHILDREN ARE LISTENING TO ?
3PM records is proud to announce the US debut from Hammerbrain. After numerous bootlegs and 7inch singles, which have dubbed Hammerbrain as one of the best punk bands of all times, Al, Paul, Ned and Glen have put together Blanche. Blanche is musically sound lyrically profound punk rock and roll from New York, and is sure to produce new classics such as the title track, "Hollywood", and "Killer In Your Radio". For years Hammerbrain has been well recognized in the music underground, and has been influential on bands everywhere. They have been featured along side of the Sex Pistols and the World of Punk compilation. With band members from across America, and the support from the likes of Joey Ramone, Hammerbrain is ready to take on the world by storm.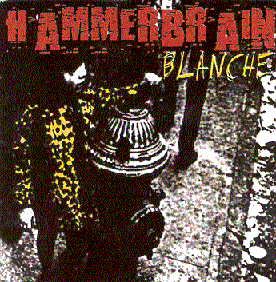 "Hammerbrain's music has said to be "melodic, powerful, fast, every thing a good punk band should be"