WHAT PEOPLE SAY ABOUT HAMMERBRAIN
Hammerbrain. Even the names gives me Goosebumps. They're so good it's not funny... This band - and I say this without any hesitation - can write the best songs. Period. Al, the singer/songwriter/guitarist, may be the most talented on the face of the earth.
- George Tabb, New York Press
"They'll blow your brains out." With Hammerbrain, the name says it all. The band is proving themselves throughout New York with their talent and drive. Based on the buzz, Hammerbrain is "huge" and getting "huger" with both huge potential and huge ability, and the band members who are physically...well...huge.
-Joey Ramone
Hammerbrain who hail from the pastoral glades of Manhattan's Lower East Side sounds like a twisted cross between Neil Young and Stiff Little Fingers....destined to be a classic.
-Maximum Guitar
Melodic, powerful, fast, everything a good punk band should be. We are dead serious when we say that this is the best punk...ever !
-Empty Record News
...these New Yorkers jam out a pair of really melodic and poppy stuff and punk rock numbers...there is a good amount of energy and heaviness behind their songs...
-Flipside
Al, as well as being a hell of a nice guy, is like the spirit of rock 'n' roll embodied in human form. He might be some sort of devine entity. Who knows ? Anybody who has seen Hammerbrain play will know what I mean.
-John Schertzer (response to George Tabb, New York Press)
They really knocked my socks off. I want more Hammerbrain in my life, you should too.
-Eyedeal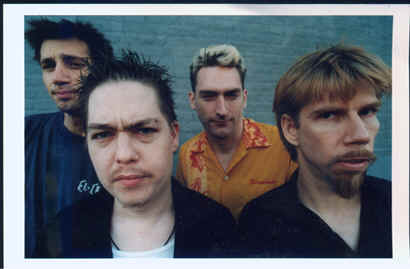 photo by Katrina Del Mar